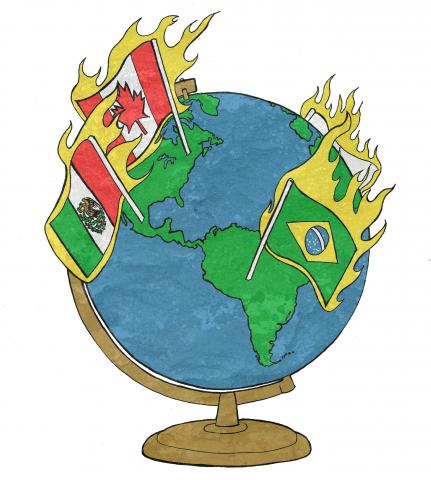 Wild Reaction MORTE
August 14 2015
This past Full Moon, somewhere in the Old Northern Mesoamerica, was held the general meeting of Wild Reaction [RS] and it's affinity groups, in which the following points were concluded:
1.- It is necessary to continue separately with the individual and group initiatives of those who came together in RS a Gregorian year ago (1). Wild Reaction more than a formal group was a meeting of thoughts and practices relating to the extreme defense of wild nature and against the artificiality imposed by the modern technological system, which selectively reunited valuable individualists breaking off from groups and cells active in sabotage and terrorism since 2007. Those who got involved in it take with them learnings and wisdom, strategies, operativity, and some other things.
2.- It could be said that some individuals within RS, did not entirely agree with what was stated by the communiques or with what was being done from the beginning. Points of view were always respected, of course, provided when criticism had a valid basis. This is another reason why RS ceases to exist to begin a NEW phase of struggle and extremist resistance against the scientific and technological system, against the artificiality of human progress and against civilization. After fruitful internal discussions, the cycle ends for Wild Reaction, and another begins.
3.- RS was nourished by the propaganda work of its direct dissemination bodies such as "Ediciones Aborigen" from Hidalgo in charge of the "Carbon Ink Groupuscule", the "Regresión" publication of Michoacan in charge of the "Coyote-skin Cloak Groupuscule", and the website "El Tlatol" from Guanajuato by the "Council of Uehuetlatolli Groupuscule". Each of these bodies served at the time with a work of analysis, study, statement, and the spreading of eco-extremism both in the territory called Mexico and outside of it. After separation of RS, "Ediciones Aborigen" and "El Tlatol" have dissolved to start other projects of dissemination or not.
The only project of its kind that remains is the "Regresión" publication, the editors will continue to be on the lookout for what happens during the "Post Mortem" of RS.
4.- Wild Reaction has divided into four groups:
A) Anonymous groups or individuals unwilling to claim their acts of terrorism or sabotage, with no interest in a fixed name or standing by initials.
B) Groups or individuals with no direct claim by Internet of the attacks carried out, but they WILL be leaving small claims of action with the detonating explosives, and graffiti in places where they act, etc.
C) Groups with distinctive names and claims on the internet and/or at the location of the attacks, these may be terrorist or sabotage. We wont mention names now, these groups will be revealed in their own time and guidelines.
D) Individualists Tending to the Wild will continue executing acts of terrorism, as it did before RS.
The cycle ends but the war is ongoing, remaining in the history of RS are the propaganda strategies, the detonation of explosive devices, the rhetoric put into action, the activation of incendiary devices, the mockery of the authorities, the sending of parcel bombs, the damage, the injuries, the psychosis, the bomb threats, the exaltation of paganism, the use of firearms, the participation in riots to create tension and provoke the idiotic masses, the sadistic romanticism, the answered criticism by joint communiques, the propaganda of terror, the armed robberies at convenience stores and banks which were never claimed, the symbolism in images and pictures, the construction of eco-extremist discourse based on the resistance of the native hunter-gatherer and nomadic warriors, the international conspiracies, etc. Although it is certain that all this will continue with the groups that have broken off from RS, each will create their own history.
Without further explanation, long speeches or unnecessary analysis:
Wild Reaction
Groupuscules:
Kill or Die
Night Hunter
Coyote-skin Cloak
Carbon Ink
Rain of Arrows
Until your death or mine!
Uaxixil Spirit
Mixtón Thunder
Lord of the Green Fire
Of the Occult
Council of Uehuetlatolli
Lurking Wildcats